Living so far from Broadway and West End, I tend to miss out on seeing a lot of theatre and musical theatre shows. But now I know at least I won't have missed out on getting to see Hamilton.
As you might know, a filmed version of the original stage production of Hamilton was released on Disney Plus this past weekend. This was quite exciting, as this has never really been done before with other shows. But it's a genius idea that allows people who haven't been able to see the show watch it for the first time, and others who have seen it to relive their experience. This is a very smart move especially in the current climate where both international travel and theatres are closed off due to the pandemic.
The film version was recorded in 2016 with the original cast, including creator Lin-Manuel Miranda and Tony Winner Leslie Odom, Jr, so you really get the premium performance of the show. I was so excited to finally watch Hamilton, and I honestly really enjoyed it a lot.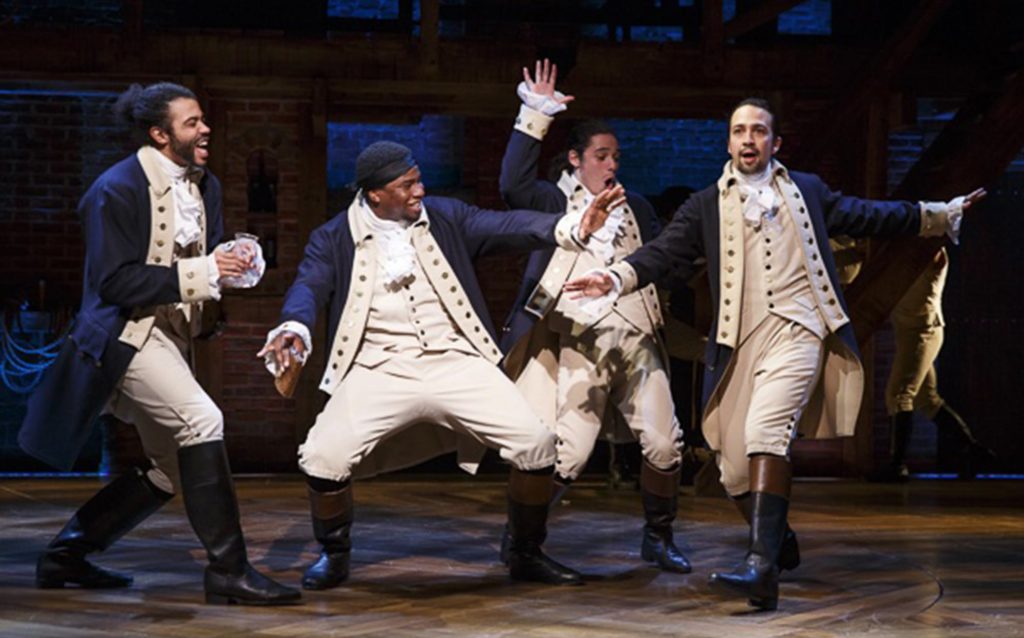 In case you aren't familiar with the story of Hamilton, it basically tells the story of Alexander Hamilton (Miranda), one of the founding fathers of America as well as a politician and soldier. It focuses on his life, legacy and interactions with some of history's most famous faces including George Washington (Christopher Jackson) and Thomas Jefferson (Daveed Diggs).
The first thing I will say about Hamilton is that it was not what I expected at all. Most of the musicals I am familiar with and have seen (Wicked, Dear Evan Hansen) have a selection of original songs that the characters sing in order to tell the story. In between these songs, to further move through the story, there are scenes with only dialogue to contrast between the songs. This is what I thought Hamilton would be like, however, the entire show is all singing. There is not one scene in which there is substantial spoken dialogue. A lot of these parts are replaced by rapping and speak-singing. Although jarring at first, I think it worked for the story and allowed for lots of musical motifs to be repeated and improvised on throughout the show. For example, the melody and chords from the verses in the opening number "Alexander Hamilton" are repeated several times, as a way of further explaining Hamilton's story.
Another thing I did not expect was the casting choices. The founding fathers such as Aaron Burr and Thomas Jefferson are played by non-white actors. I'm not gonna lie, this confused me a bit at first and I was asking myself "were these people actually African-American?". But once I got the gist of what Lin-Manuel Miranda was going for, I really liked the choice to do this. All the actors chosen were energetic, extremely talented and brilliant in their roles. It was really interesting and intriguing to see these historical figures played by different races, and brought a new meaning to these people. It was as if Miranda decided to bring history into the modern age, and I love it.
I think my favourite character was definitely King George III (Jonathon Groff), who hilariously pops in throughout the show, making fun of the Americans and their choice to become independent from the monarchy. His song "You'll be Back", the melody of which reoccurs three times, is also very funny, with lines like "Cause when push comes to shove, I will kill your friends and family to remind you of my love!". Groff fully gets into the character, spitting and acting like a true king. The parts where he came in were my favourite parts of the entire musical.
All the other actors are to be commended as well. Lin-Manuel Miranda is powerful and dashing as Alexander Hamilton, Leslie Odom Jr is fantastic, funny and evil as Aaron Burr, and Philippa Soo does an extremely powerful and emotional performance as Eliza Schuyler/Hamilton. The quality of the singing was also excellent, in particular I thought George Washington's (Christopher Jackson) voice was fantastic and probably the best of the bunch. I enjoyed how these actors told the story in a way that was entertaining but also allowed me to learn something about the history of America.
As I said before, the music is very unique and different, with lots of hip-hop and R & B influences, but it really works for the show. Some of my favourite songs include the hip-hop inspired opening number "Alexander Hamilton" and the powerful and catchy "My Shot" as well as the emotional and more traditional numbers of "The Story of Tonight", "It's Quiet Uptown", "Burn" and the finale "Who Lives, Who Dies, Who Tells Your Story". I think my all-time favourite song would be "Helpless". Sung by Eliza Schuyler as she meets and falls in love with Hamilton, the song is extremely catchy and Philippa Soo's performance is fantastic. This was the one song that I couldn't stop singing after I finished watching the show.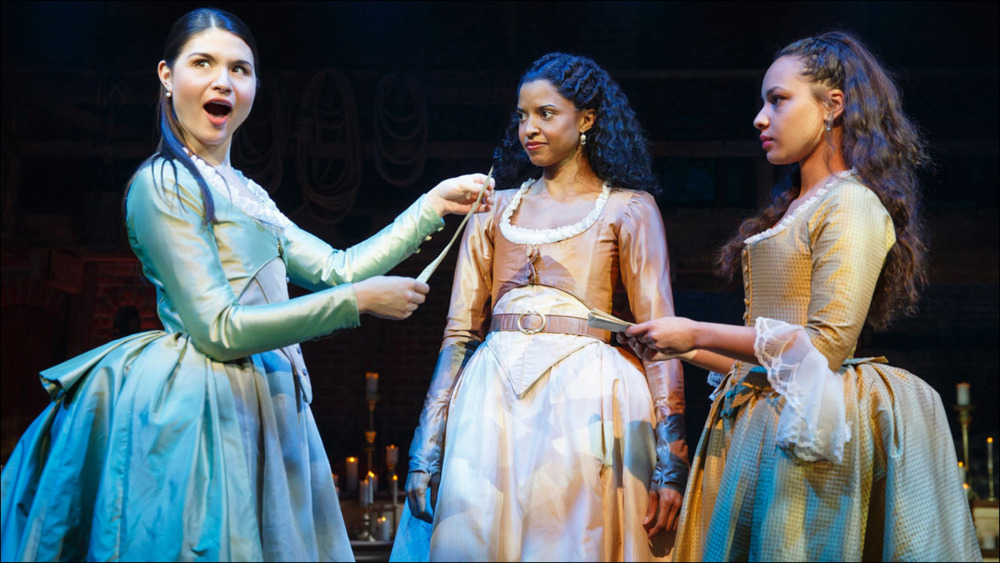 Overall, I thought that Hamilton was excellent in every way. The story was engaging and interesting, the cast does a phenomenal job, the stage production itself was effective yet simple, and the music is catchy and enjoyable to listen to. Although not what I was expecting, I really enjoyed watching the film version and hope to see the production live when it does come to Australia next year (hopefully!).
The one thing I take away from this is that production companies need to start properly filming and releasing videos of performances of these popular shows, so that everyone can enjoy them, no matter where you live or how much money you have. Miranda and the rest of the people involved with Hamilton were extremely smart to film this when they did, and I would love to see more Broadway and West End shows get the same treatment. Rather than making a full new film like was done with Cats or Les Miserables, companies could release filmed versions of the original cast performing the show, so viewers get the full experience of the show. Also, it would probably work out to be cheaper!
Go and watch Hamilton on Disney + now, and experience the show for yourselves! Let me know what you think of the show in the comments below 🙂
Enjoy watching,